SingerSongwriter ✶ VoiceTalent ✶ Composer/Producer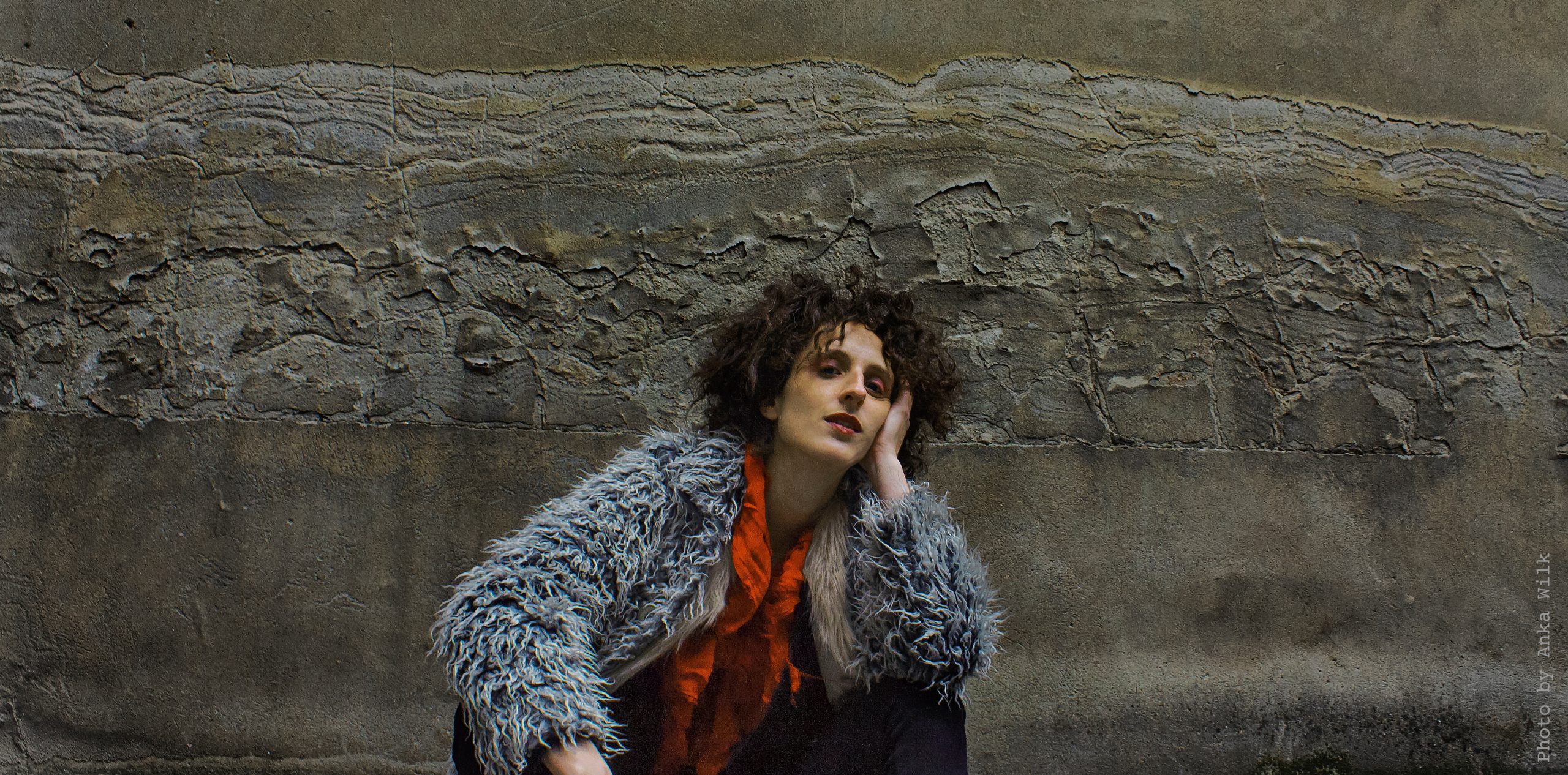 Warm&Cool songs by a raw-power artist 
Irene Graziadei is an Italian independent artist, now living again in central Italy, after many years in Berlin.
On the stage she plays electric guitar and sings, using effects and loop-station, producing a direct and personal, pretty grungy alternative songwriting. What most impresses her audience is the way she uses her voice, covering a wide range and modulating from rough to brilliant, from whisper to scream. Her songs describe her search for truthfulness: often unconventional if not even weird, they still sound simple and straightforward, from time to time round and sharp-cornered, talking straight or maybe leaving a slice of ambiguity. Sometimes edgy, others dramatic or maybe ironical, hermetical as well as the exact opposite, the lyrics, mostly in Italian, drive the composition and the performance, so that even non-Italian speakers catch the intention and get touched by it in ways that go beyond reason and language.
One-Woman Music Production
From the very beginning of her career Irene has been learning how to record and produce her music. Arranging, recording, mixing: the whole work behind a piece of music has always fascinated her and being able to record and produce her songs by herself was the best way for her to work. After private lessons, musicology studies, early music experience as a child, who knows how many tutorials about mixing techniques and some extra workshops she found herself composing and producing even other kinds of music, instrumental stuff, soundtracks, using both acoustic and electronic instruments and taking advantage of the technology available and so delivering finished and fully self-produced pieces of music, in various styles and for quite any instrument. Since 2021 Irene is also dedicating herself to the production of high-quality VoiceOver recordings for any purposes and in 5 different languages.
Short Bio
After a long and contorted way searching for her artistic language, from flute and music theory lessons as a child, writing from the age of 7, then some theater experiences as a teenager and even some experiments with visual arts, Irene started to write songs and to take lessons in guitar and music theory&production by Friedrich Schapper in 2007. Between 2010 and 2013 she attended the faculty of musicology at the Humboldt University in Berlin, where she integrated her knowledge of harmony, composition, music history and production. Since then she's been composing and performing regularly in various clubs in Berlin until, at the end of 2022, she moved back to Italy for a radical life-style change: she now lives in Umbria (central Italy) on the countryside and from there she's looking for gig opportunities in Italy.
Releases
August 2015: Homemade (EP) ✶ August 2015:  Pelle (videoclip) ✶ Summer 2016: Spine + La marcia dell'umore nero (singles on the A++ Compilation II) ✶ May 2020: Anno 2020 (videoclip) ✶ November 2020: Lontano (videoclip)
Composition & overall production
Soundscapes Live on Stage
Various by fans and friends
Thank you!
June 21st, at 23.00: Festa della Musica, Piazza del Catraione, Marsciano (PG). 
2022, September 9th: "GoodBye Berlin Concert", Solo performance, at Galerie ZeitZone, Berlin-Kreuzberg

2021, August 18th: 

"The Voice of Women"  i

nteractive performance with Heads And Voices (live-painting : Ilona Ottenbreit, words: Judith Evers, sound: Irene Graziadei) as part of "Hošek Contemporary Prize 2021 ", @ MS Heimatland, Berlin

2021, May 27th: "The Voice of Women"  i

nteractive performance with Heads And Voices (live-painting : Ilona Ottenbreit, words: Judith Evers, sound: Irene Graziadei) as part of PAF (Performance Art Festival) @ Novilla, Berlin (ONLINE EVENT!) YouTube link: 

https://www.youtube.com/watch?v=v7XYeWecof4
2021, March 25th: Irene Graziadei live @ Mastulsessions (ONLINE EVENT!) YouTube link: https://www.youtube.com/watch?v=kob0Zj4j6W0
2020, October 24th: Transformation durch das Wort – Hommage an Christoph Schlingensief. Interactive performance with live-painting (Ilona Ottenbreit), words (Judith Evers) & sound (Irene Graziadei), @ Rosa-Luxemburg-Platz, Berlin


2020, October 8th: live for Psychosoziale Initiative Moabit, Berlin 

2020, September 30th: live for Psychosoziale Initiative Moabit, Berlin                                                     

2020, 

 September 13th: "Im Strudel des Wandels – Hommage an Christoph Schlingensief". Interactive performance with Ilona Ottenbreit (live painting), Judith Evers (words), Irene Graziadei (sound) @ Städtische Museum Braunschweig

2020,

 August 28th: "We are all human – Different but same" – BLACK LIVES MATTER. Interactive live-painting, word & sound performance with Ilona Ottenbreit, Judith Evers and Irene Graziadei @ Novilla, Berlin.
2020, August 19th: Silent Concert @ Hrmnnbox vol. 7, Berlin


2020, 

February 14th: live at Deriva, Berlin

2019, November 17th: Berlin Spricht at Stadtwerkstatt, Berlin 

2019, October 10th: Jeudi Foster at Madame Claude, Berlin
2019, October 5th: Fest zum Tag der deutschen Einheit at Brandenburger Tor, Berlin
2019, September 6th: Urban Art Week at Kulturbotschaft, Berlin
2019, September 5th: live for Boys Will Be Boys at Frauenkreis, Berlin
2019, July 24th: live for AKB goes Palais Populair, Berlin
2019, June 21st: Festa della Musica, Arco (IT)
2019, April 26th: live for Little Secret Exhibition at Galerie ZeitZone, Berlin
2019, March 8th: live for Sketch the Moment III Exhibition at Galerie ZeitZone, Berlin
2019, January 22nd: live at Wilma, Berlin
2018, October 26th: live at Arcanoa, Berlin
2018, September: Open Studios at GlogauAir, Berlin
2018, September 7th: live at Artliners, Berlin
2018, August: live at Madame Claude, Berlin
2018, July 13th: live for Berlin Heroes at Galerie ZeitZone
2018, July: Sommerparty at Forum Factory, Berlin
2018, June 12th: AKB Songslam at Cassiopeiea, Berlin
2018, May 25th: live at Arcanoa, Berlin
2018, March 9th: live for Sketch the Moment II Exhibition at Galerie ZeitZone, Berlin
2017, June: XB Sunday Matinee at XB-Liebig, Berlin
2017, May 13th: Birthday & Benefit Party at Galerie ZeitZone, Berlin
2017, April 13th: live at Intertank, Berlin
2017, March: Open Studios Inform at Funkhaus, Berlin
2017, February: live for Anthology of the Invisible at Galerie ZeitZone, Berlin
2017, January 20th: live at Arcanoa, Berlin

2016, December: 

Freaky Friday at Madame Claude, Berlin

2016, November: 

 live at Folkbar Zukunft, Berlin

2016, July: 

Weißenseer Blumenfest, Berlin-Weißensee  

2016, April: 

Support Act for Megan Lane (CAN) at Tiefgrund, Berlin

2015, December: 

Freitags Überraschungsessen at Überraschung, Berlin

2015, December: 

Folk Night at Bödi 9, Berlin

2015, November: 

SingerSongwriter evening for Musiklaboratorium at 12 Grad Aethereologe, Berlin

2015, October 16th: 

live at Oblomov, Berlin

2015, September 27th: 

Live recording session at CultureContainer, Berlin

2015, September: 

Live for Panke Parcours at Golden Lounge, Berlin

2015, August: 

EAST SIDE MUSIC DAYS, Berlin

2015, August: 

live at Arcanoa, Berlin

2015, July 22nd: 

live at Hard Rock 2 Club, Berlin

2015, July 10th: 

live at  Lagari, Berlin

2015, July: 

Open Studios at Funkhaus, Berlin

2015, June 16th: 

live at Hard Rock 2 Club, Berlin

2015, June 9th: 

Kulturtrinken at Kukulida e.V., Dresden

2015, April: 

Frei ausm Bauch Slam Poetry/Singer Songwriter/Streetart at YAAM, Berlin

2015, March 25th: 

live at Hard Rock 2 Club, Berlin

2015, March 8th: 

live at Folkbar Zukunft, Berlin

2015, February: 

Habemus Samstag at Madame Claude, Berlin

2015, February 7th: 

live at Peppy Guggenheim, Berlin

2014, December 13th: 

Trickster's Birthday Party at Trickster, Berlin
2014, December 13th: A++ BerlinMusiCooperation Lounch Party at Zukunft am Ostkreuz, Berlin
2014, November 27th: live recording sessions at Culture Container, Berlin

2014, November 1st: 

live at Oblomov, Berlin

2014, October 22nd: 

live at Hard Rock 2 Club, Berlin

2014, September 12th: 

live at Lagari, Berlin

2014, August 9th: live at 

Arcanoa, Berlin

2014, July: 

live at Madame Claude, Berlin

2014, July 19th: 

live at Hard Rock 2 Club, Berlin

2014, June 4th: 

live with Giole Pagliaccia at Intersoup, Berlin

2014, June 21st: 

finissage exhibition "Roots/Leaves" at Galerie im Erd und Feuer, Berlin

2014, April 7th: 

Open Studios at Funkhaus, Berlin

2014, March 13th: 

live at Fuk;s, Berlin

2014, January 31st: Debut Concert at 

MaThilda, Berli